Looking for the perfect experience gift for kids? Here's an epic list of 101 experience gifts that kids will love! Avoid clutter. Give memories!
Research shows that experiences make humans happier than "stuff". Here are 101 experience gifts your kids will love.
5 Reasons to Give Experiences:
Less Clutter, Less Stress
Less clutter means less cleaning and less stress! End the cycle of adding "stuff" to your house by making an effort to give experiences instead of material things.
Entertainment
If you give an experience, you know your kids will be entertained! If you buy "stuff" as gifts, it might just get tossed in the closet and never thought about again.
Learning & Growing
Virtually all experience gifts help kids learn and grow. They're gaining experience, growing their brain, and strengthening their body!
Bonding & Connection
Experience gifts are almost always done together. When you do these activities together, you're strengthening your bond.
Life-Long Memories
New, exciting experiences can turn into life-long memories and boost happiness!
---
101 Experience Gifts for Kids
Adventure
Rock Climbing Experience
Many gyms offer rock climbing walls. Help your kids build skills and confidence by teaching them to climb. It's a great experience gift for kids!
Indoor Trampoline Experience
Trampoline parks are popping up everywhere! Some have fun obstacle courses and basketball hoops for added fun. Google trampoline parks in your area to find one!
Horseback Riding Lesson
Most kids love animals. Get them comfortable with horses by giving them horseback riding lessons.
Camping Experience
A camping weekend is a great experience gift! Your family will create lifelong memories.
Hot Air Balloon Ride
If your kids are interested in scoping out the landscape from above, take them on a hot air balloon ride.
Skydiving Experience
If your kids are old enough, consider taking them skydiving! It's an exhilarating experience they will never forget.
Mini Golf Game
Kids love mini-golf! A round of mini-golf makes a great experience gift for kids.
Geocaching Trip
Get outside and go on the hunt! If you're unfamiliar with geocaching, it's an outdoor scavenger hunt. Learn more about it here.
Bowling Gift Card
Many bowling alleys have fun theme nights! Take your kids bowling during a cosmic bowling night.
Ice Skating Gift Card
Help your kids develop another winter sports skill: ice skating!
Whale (or another animal) Watching Tickets
Most areas have animal-watching adventures available. Water tours (like whales, dolphins, and sharks) are popular. But you might also find land tours! Check with a nearby nature preserve or state park.
Escape Room Gift Card
If your kids want to engage in a real-life clue game, take them to an escape room!
Ski Lift Tickets & Rentals
Encourage winter adventures with ski lift tickets and equipment rentals.
Petting Zoo Tickets
Kids love petting zoos. Some even offer pony rides!
Hiking Gear
Encourage your kids to get outdoors with new hiking gear.
A Scavenger Hunt
Set up a scavenger hunt for your kids. They will love the adventure!
Helicopter Ride
Helicopter tours are magnificent. It's a totally different perspective on the landscape. Book a helicopter tour of your hometown!
Outdoor Survival Course
For outdoorsy kids, sign them up for a survival course!
Tree & Rope Climbing Adventures
Outdoor adventure parks and camps have tree climbing and rope climbing obstacle courses. Check for day passes!
Ziplining Adventure
If you want a real adventure, look for a Zipline course near you!
Ninja Warrior Gym Passes
Did you know there are Ninja Warrior gyms all over the country? Active kids will love to try their hand at these obstacle courses!
Summer Camp
Check out the local summer camp options at the local community center or through the local school district. This is a great experience gift for kids!
Rent a Bounce House
For young kids, you can rent a bounce house for a day. Some places will even set-up and tear-down for you! Just google your local bounce house renters.
Go-Kart Tickets
An outing to a go-kart track is on every kid's wishlist!
Train Ride
It can be difficult to find short passenger train rides, but every kid should try it once!
A Boat Ride
Find the nearest body of water and check for boat rentals!
Parkour Class
Parkour is for very active kids! Search your local activity center for these types of classes.
Indoor Skydiving Experience
Indoor skydiving facilities are popping up everywhere. Do a quick google search to see if there's one near you.
Do a Color Run (or another running event)
If your kids love running, sign them up for a fun running event, like a Color Run.
Roller Skating
Take your kids on an outing to the local roller skating rink.
Laser Tag or Paintball
Get your kids active with a game of laser tag or paintball.
Science
Materials to build a terrarium
Terrariums are fun because you can see the growth each and every day. You can make your own terrarium with a glass jar, soil, and seeds. You can also purchase a kit like this one.
Materials for an exploding volcano
You really only need baking soda and vinegar to pull this off. But you can add fun things like food coloring, glitter, etc.
Gardening Set & Seeds
Gifting kids a gardening set is a way to keep them busy all summer long. You can find a full set for a responsible price on Amazon, or visit your local home improvement store.
Name a Star
There are a number of agencies that will let you name a star after your child! They'll provide a constellation map so you can find the star, a certificate, and other memorabilia. It's a fun way to get kids engaged in learning about space. I have personally used starregister.org and we had a great experience.
One Note: these registries are for honorary purposes. The International Astronomical Union (the organization that officially names stars) does not recognize the purchased names of any stars in the sky.
Adopt or Sponsor an Animal
Many rescue organizations will let you "adopt" or sponsor one of their animals. It's a fun way to get kids engaged in helping animals. You provide a one-time or monthly donation, and then you can follow along on that animal's journey!
There are many, many organizations that accept sponsors or allow people to "adopt" animals. We love farmsanctuary.org and bestfriends.org. Or you can just google "sponsor an animal" and find one that's right for you.
Time Capsule Kit
Let kids send a message to their future selves with a time capsule! You can buy a kit like this, but you could also just use an old jar or box to create your own kit.
Butterfly Garden Kit
Helping caterpillars transform into butterflies is a magical experience! You can get a kit with everything you need, including baby caterpillars!
Science Experiment Kit
Google is full of science experiment kits. There's one for every interest! It makes for a great experience gift because most of them are one-time use.
Visit an Observatory or Planetarium
This experience is often overlooked! Many cities have observatories or planetariums that you can visit. Check with your local university, or use google to find one close to you!
Art & Crafts
Pottery Studio Gift Card
Sometimes pottery studios are hidden in the most unlikely places! Do a quick Google search to find one near you.
Drawing Class
For artistic kids, a drawing class would be a treasured gift! Check the local community college or library for options.
Painting Class
Messy and creative kids will love diving into a painting class. Check your local community college or library for options.
Dance Class, Music or Gymnastics Class
Help kids stay active with one of these movement classes. It's a great experience gift for kids!
Instrument Lessons
Learning a new instrument is a valuable skill. It helps brain development and encourages learning.
A Scrapbook
Help crafty kids explore their artistic side with a scrapbook and supplies.
Room Decor
If your child's room seems a little dated, a great gift is a bedroom makeover! Let them choose the theme and you buy paint and supplies for a bedroom redesign.
Creative Writing Class
Many kids hate writing because they don't get to write about fun stuff! Help inspire a budding novelist with a writing class! Check your local community college or search online for great options.
Digital Experiences
Language Learning App or Software
You can help kids master a foreign language with a digital app. There are a number on the market, but I love Toucan and DuoLingo.
Spotify or Apple Music Gift Cards
If your kid loves music, a Spotify or Apple Music gift card is a great gift!
Virtual Classes
You'll be shocked by the variety of virtual classes available! You'll definitely find a topic your kids will enjoy.
Virtual Reality (VR) tickets
Find a place that offers a virtual reality experience, or purchase VR equipment!
Digital book gift cards
Digital books are a great gift for avid readers! They can take books with them on their favorite device. No clutter included!
Food
Restaurant Gift Card
Who doesn't love a delicious meal at their favorite restaurant? It's one of the best consumable (in other words, clutter-free) experience gifts you can give anyone, including kids! Find out your kid's favorite restaurant and order a gift card!
Meal Delivery Service
If you're trying to find the perfect gift for a kid who loves to help in the kitchen, then a food delivery service is the perfect gift. Everything is pre-portioned out and it always comes with detailed recipes, so even young kids can complete a full meal. It's a win/win! Kids build confidence in the kitchen, and the parents don't have to worry about dinner for a couple of nights.
We love What a Crock, because there's no real cooking involved! All the recipes utilize a slow cooker.
Cooking Classes or Club
Helping kids build confidence in the kitchen is a great gift! Use google to find local cooking classes specifically for kids. Sometimes grocery stores offer them for a nominal fee. Or you can find a virtual class through kids-table.com.
Food of the Month Membership
Whether your kids like candy or popcorn, there's a kid-friendly food of the month subscription your kids will love. I love this list of options.
Ice Cream Shop Gift Card
Who doesn't love ice cream? Give your kids an after-dinner treat with ice cream gift cards!
A Snack Box (like a box of various types of popcorn!)
What's your child's favorite snack? Scour the grocery store for a bunch of varieties of that snack. Box and wrap them up! The experience of trying all the varieties of their favorite snacks will be a memorable one. Plus, it's a consumable gift, so there's no long-term clutter!
At Home
Game Night Bundle
Sponsor a night of family fun by putting together a game night bundle! Purchase your favorite board games and snacks, and get a little competitive. It's one of the great gifts experience for kids who like to hang out at home.
At-Home Manicure/Pedicure Kit
Encourage self-care, no matter how young your kids are! Give them the tools to do a home manicure and/or pedicure. They'll love a little pampering as a gift.
Mail Order Mystery
If your kids like the game Clue, then they will love a mail-order mystery gift. It's a personalized mystery case your kids can investigate. Gift the opportunity to be a detective with a Mail Order Mystery!
A Photo Album
An album full of memories makes a great gift. I know, this does count as "clutter" for some people, but it's an extremely sentimental gift that will last ages. Kids have the opportunity to relive some of their favorite experiences through pictures!
Tickets & Memberships
Zoo Membership
This is the perfect gift for animal lovers. THere's almost certainly a zoo near you (a day trip at most), so get your kids' unlimited visits for the year. It's a great opportunity to get kids outside and learning!
Aquarium Membership
Animal lovers will also love an aquarium membership. Check to see if there's one close to you, and get your kids a membership!
Museum Membership
Another popular membership gift is a museum membership. Whether your kids like science, history, or art, there's probably a museum near you!
State Park Passes
Encourage outdoor adventures by purchasing (or registering) for an annual park pass. Some states charge for annual passes, but others are free. It's a great gift!
Broadway (or Off-Broadway) Shows
Have your kids discovered musicals? Or theater? Broadway (or Off-Broadway) tickets make a great experience gift for kids who are creative!
Live Character Shows
Most kids have a favorite character. Check for local showings of live shows featuring Sesame Street, Disney Characters, or even something more specific like PJ Mask or Paw Patrol.
Tickets to a Local Farm
Buy tickets to a local farm tour! Many farms offer behind-the-scenes tours of how their operations work. Whether it's a dairy farm, chicken farm, or crop farm, your kids will definitely be surprised at where their food comes from. It's one of the greatest experience gifts for curious kids!
Sports Tickets (Baseball, basketball, hockey, etc.)
Google your local sporting teams and buy tickets! If you don't have any big sports teams, that's ok! College games and even high school games can be a fun experience as a gift.
YMCA Pass
Recreational centers are an amazing opportunity for kids to be social, learn new sports, and stay active.
Movie Gift Card
Who doesn't love a movie night out? A gift card to the local movie theater is a great experience gift for kids.
Season Pass to a Local Attraction
Even the smallest cities have local attractions! Use google to find local attractions and day adventures near you. You might have a small amusement park or fun center that your kids can visit on the regular!
A Library Card
An often forgotten pastime for kids is to visit the local library. There's still something magical about rows and rows of books! Get your kids a library card and encourage them to explore the pages of books at your local library.
Tickets to a Concert
Gift concert tickets for your little music lover! It doesn't have to be a big-name concert. The concert experience can be fun even with unknown names or cover bands! Check the local colleges, entertainment centers, or local fairs for opportunities.
Arcade Tickets/Coins
You might think arcades are a thing of the past, but if you look, you'll probably be able to find one! Give your kids an old-school gaming experience with arcade tickets.
Batting Cage Tickets
Tickets to a batting cage make a great experience gift for kids who love sports!
Subscriptions
Audiobook Subscription
Audiobooks are popular because you can consume books on the go. If you're looking for a gift for a book lover, an audiobook subscription is a great choice. I personally love Amazon's Audible subscription.
Little Passports
Help kids explore geography and science with this monthly subscription box! They have options for all ages. Check out Little Passports here.
Kids Magazines
Kids love getting mail! Try a monthly kid's magazine subscription. It's a great gift, and you can order them right on Amazon. See the selection here. It's definitely one of the easiest experience gifts for kids.
Streaming service for a year
A digital streaming service is a great gift that doesn't clutter up kids' rooms. Consider a streaming service like Netflix or Disney+!
Meditation Subscription
Mindfulness is a great skill for kids to learn. Gift your kids a meditation subscription to work on this skill!
Walt Life
This is the perfect gift for Disney lovers! Get a monthly delivery of carefully selected Disney merchandise. They even have specialty boxes, like the Walt Wars (Star Wars) box! Order a Walt Life subscription box!
Gramma in a Box
Do your kids love to help in the kitchen? Gramma in a Box is a monthly subscription box that includes almost everything you need to make 20 candy and cookie treats including 12 cookies, 4 frostings, 5 sprinkles, and other items for the candy treat including melting chocolate, pretzels, marshmallows, and other items.
Bookroo
Build your children's book collections in an affordable and exciting way through curated monthly book deliveries. It's the perfect gift! Bookroo believes in the power and impact of the written word in the life of a child, and believes it's never too early to start reading to children! Book boxes are geared for ages 0-10.
Groovy Lab in a Box
Each month, get a Groovy Lab in a Box that contains fun and engaging STEM projects for kids! Your kid will love the engineering challenges. Try Groovy Lab in a Box.
Up & Away
Enjoy curated, family-friendly travel subscription suitcases which include games and activities while incorporating the culture, cuisine, geography, and people from countries around the world. Something that sets us apart is our focus on the five senses. Each suitcase comes packed full of sights, sounds, smells, tastes, and things to touch, guaranteed to stimulate your senses. Try Up & Away!
Superpower Academy
Superpower Academy is a STEM + Social & Emotional subscription that places kids as the hero in their own adventure stories. They will embark upon a journey where they have to solve complex problems, develop grit, and evolve into future leaders.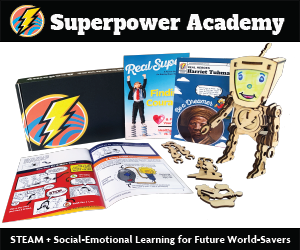 Other Ideas
Behind the Scenes Tours
Search for local businesses that offer behind-the-scenes tours! Many factories and farms offer free or low-cost tours to show you how their business runs!
A Special Day Out
Plan a special day out for your little one! Treat him or her to experiences that wouldn't normally be a part of your weekend, like pedicures, gourmet lunches, and perhaps a hands-on experience like Build-a-Bear.
Overnight Stay at an Indoor Waterpark
Indoor water parks are very popular. Oftentimes waterpark tickets are included in the overnight packages, so plan an overnight visit! You might find a locally owned destination, or you could check out national chains like The Great Wolf Lodge.
Fan Experience
There's no shortage of fan experiences nowadays. Whether your kid loves comic books, Minecraft, or Broadway theater, there's something for everyone. Check out Eventbrite.com to find local events in your area. And check out GoldStar.com to see if you can score discounted admission!
A Farm Stay
Try a Farm Vacation! Let kids experience farm life by booking a trip to a farm or ranch near you. Check out farmstayus.com to find one! It will be one of the most unforgettable experience gifts for kids!
Swim Lessons
Swimming skills are an invaluable gift. If your child doesn't know how to swim, consider the gift of swim lessons. Even if they know the swimming basics, consider a more advanced class, or even a lifeguard class.
A Gift to Charity of the Child's Choice
Encourage generosity by making a donation to your child's charity of choice. It gives kids an opportunity to investigate charitable organizations that are meaningful to them.
Donation to College Fund
Give a cash donation to a college or savings fund. It doesn't seem like a very fun gift right now, but over time, your donation will grow and kids will appreciate the funds later on. It's one of the most underrated experience gifts for kids, but don't overlook this valuable opportunity!
Airbnb Gift Card
Inspire a little adventure with an Airbnb Gift Card! Let kids experience a different city or just a different part of their own city!
A YES Day
Have your kids asked you for a "YES" Day? There's a popular kid's movie that features the idea. It's pretty simple. It's a day where mom and dad have to say yes to each and every request.
Volunteer Together
Giving back to the community together is a great way to build character and bond. Plan a day of volunteering together. Just use google to find volunteering opportunities in your city or county. Try local churches, homeless shelters, animal shelters, and food pantries.
What You Should Do Next…
Are you ready for more activities to build a rock-solid bond with your kids? Try our Connected Parent Challenge! It's 15 Days of 15 Minute activities that are sure to improve your connection, diminish bad behavior, and create lasting memories. Plus, I'll deliver more amazing parenting strategies to your inbox weekly (don't worry, unsubscribe any time!).
Connect with like-minded moms (and dads!) in our free online community. You'll find a plethora of resources to help you through your parenting challenges. Plus, you'll find me there! And I'd love to connect.
Do you need actionable strategies right now? Register for this free 60-minute webinar titled How to Get Kids to Listen, Without Nagging, Yelling or Losing Control. You'll walk away with parent-tested tactics to get your kids to listen starting today.